Santa's Helper
Thursday, June 21, 2018
Santa's Helper II
is much easier to use, and contains many more features.
You work hard to get visitors to your web site. You need a fun way to get their contact information. Now, they can receive their own full color, personalized letter from Santa Claus sent to their inbox, and you have their contact information.
Why is this so important? The average person will visit your web site and never come back once they leave. So, it's extremely important for you to get their contact information as soon as they come.
Not only will get their e-mail address and more, but Santa's Helper gives your visitors a reason to come back and refer others to your web site.
How does it work?
A small, randomly displayed Santa picture displays on your web pages.
When a visitor clicks on the picture, they can write a letter to Santa Claus.
They enter their name, where they live, and e-mail address.
A beautiful, personalized letter from Santa is e-mailed back to them.
All of their contact information is stored for you to keep in touch with them in the future.
Each letter has a random background that it is displayed on, so your visitors will always receive different letters from Santa!
You can create your own custom letters (from Santa) that your visitors see in their e-mail, as well as add your own graphics!
Examples:
Click any of the randomly shown pictures below to send a letter to Santa Claus.
Below is an example of an e-mail addressed from Santa Claus that your visitors will receive.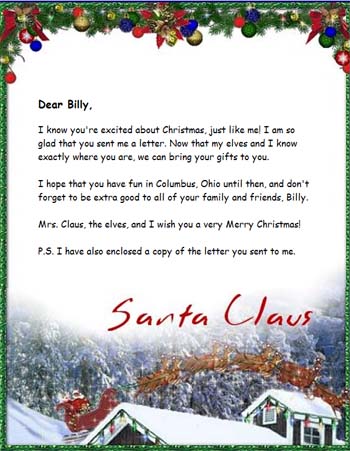 Installation:Santa's Helper automatically installs on your web site in seconds
Or, follow the below instructions to install manually.
Download the santa.tar archive
Untar the files to a temporary location on your web server (tar xvfp santa.tar)
Move the santa.cgi script to your cgi-bin folder and CHMOD to 755
Edit the location where you want to store all the graphics and text files in the santa.cgi script
Move all other files to the location you specified in the script
How do I use it?
Simply place the below code onto any of your web pages:
<SCRIPT SRC="http://www.yourserver.com/cgi-bin/santa.cgi?p=1"></SCRIPT>
Just replace the
www.yourserver.com
portion with the real location of the software on your web site.
If you are going to place the code multiple times on the same page, change
p=1
to
p=2
,
p=3
, etc...
Administration:
To see who has sent letters using your Santa's Helper, you can login to the administration section by going to:
http://www.yourserver.com/cgi-bin/santa.cgi?area=login
This will allow you to see e-mail addresses, IP Addresses, and what visitors have written to Santa.
I have been a member of this site for quite awhile now and never took the time to investigate it. I finally did on January 03, 2008 and let me tell you of all that I have been missing and paying through the nose for the same items CGI has for a fraction of the cost. I'm glad I finally smelled the roses and became a member! Become a member today and see what you've been missing!...
Pastor Dean
Send us your thoughts

Questions?
Get this software title and over $8,000 of other eye-catching web software products for
only $9
Download Fuse Node.js Compiler