WebShell 1.0
Saturday, January 21, 2017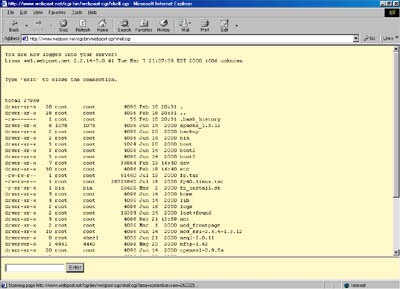 The WebShell is intended to give those who do not have telnet access, a way of issuing commands in realtime, just like telnet does. Any command that you can type in at the telnet prompt can be entered in the WebShell.
For example, on a Unix machine, you could use:
ls = list all files
cd = change directory
Once you download the script, simply edit the location of where your cgi-bin directory is and temporary storage directory, chmod the script to 755 and you're ready to go! If you have permission, you can chmod the script to 7755 which will run it under your username.
NOTE: This script can be very dangerous if kept on your server unwatched. Once you are finished using it to install any type of software, you should remove it from your cgi-bin directory.
"I run a free personal website, and boast no Ecommerce sales for the most part. But I am very creative and love coding as a hobby. I am going to attempt installation of this script soon. I love the small size of the interface... Thanx for your time, it looks like you're doing a great job, I hope it get nothing but better and businesses buy it up!"
- T. Ray
Send us your thoughts