CGIOffice CRM
Manage people, projects and calendars the easy way... just like the pros do (right from your web site)
Friday, September 29, 2023
CGI
Office
CRM
is a full featured Customer Relationship Management system that enables you to manage your entire business using just a web browser. You can access and share contacts, calendars, tasks, files, and much more with just a few mouse clicks.
Features:
Completely web based. Runs on your web site so all you need is a web browser to access your calendars, tasks, contacts, files, and more from any where in the world
Safely add and manage all of your contacts and address book information online
Share and maintain calendar schedules and events in realtime
Share files with your agents, employees, and clients with one system. No more e-mailing huge file attachments to multiple people
Easily manage your tasks and to-do lists without fumbling through multiple screens or hand written post-it notes
Create custom fields so you can add any type of information for your own needs
No software to install and configure on multiple computers. Just open your favorite web browser to access calendars, contacts, files and more
No expensive server license fees or installation needed
Uses the latest Web 2.0 AJAX technology for fast data transfer on any Internet connection
Add an UNLIMITED number of contacts and files... you're only restricted to how much space your web hosting company gives you
The video below may take a minute to load
View your calendar or any other user's calendar that is sharing with you, all on one screen so you can avoid any conflicts with each other.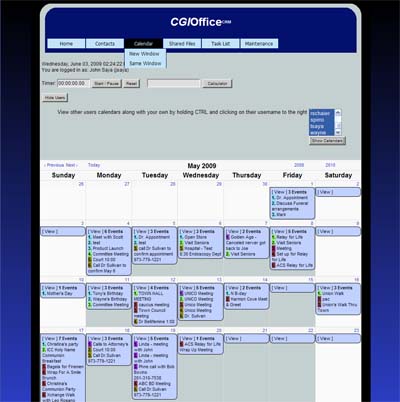 Edit your calendar events all on one screen with ease... you can even edit other user's calendar if they give you access.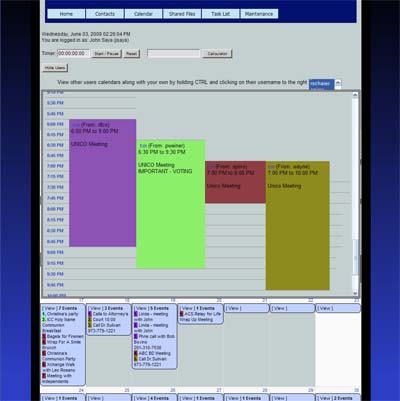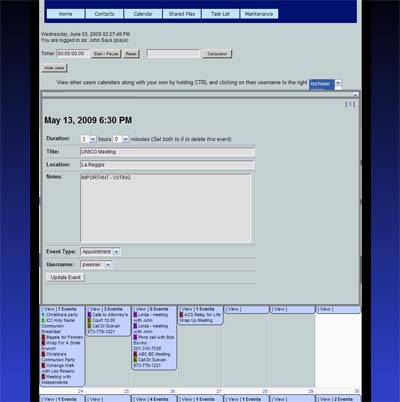 Customizable for any industry with the ability to add any other fields to keep track of your customers and clients.
Add contacts with ease by having all of the information on one screen -- including custom fields that you can add from the configuration screen.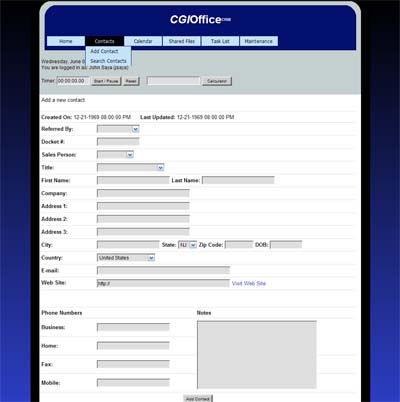 You can attach files, other contacts, and more to each contact so you always know which people and companies are working together and the files they need to access. A separate login section and password can be created for others to access files without gaining access to other features of the CRM.
See upcoming birthdays, events, and tasks all on the dashboard so you never lose track of what needs to be done or who needs to be contacted.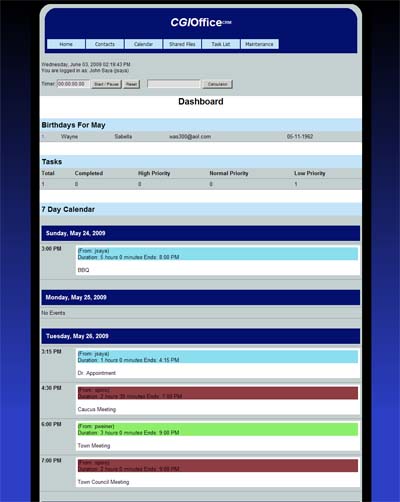 Share files with everyone in your company from one location, safely and securely right over the web. You can even password protect folders for even greater protection.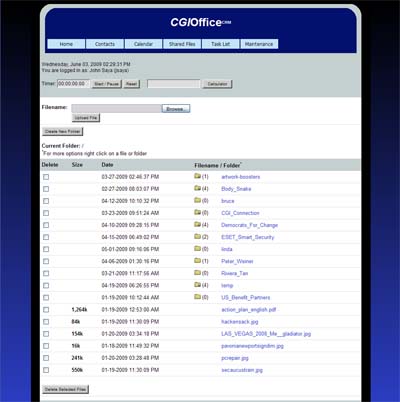 Create, edit, and update your tasks or the user's who are sharing tasks with you from any screen while using the CRM.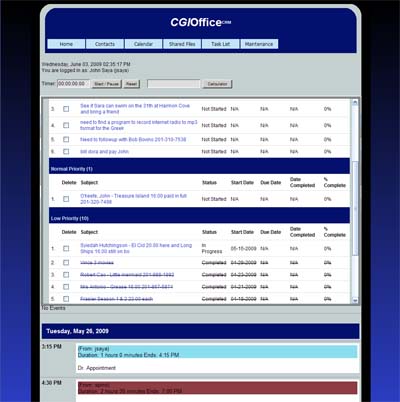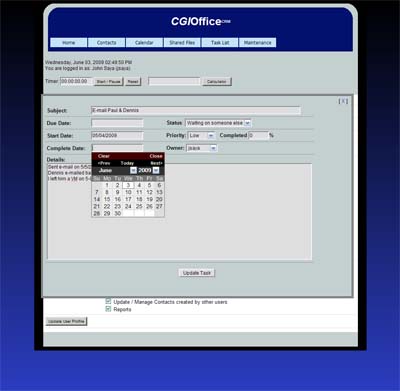 Managing users who can login to the CRM has never been easier. Just fill in a couple boxes and check off which parts of the CRM they can access and they can begin immediately.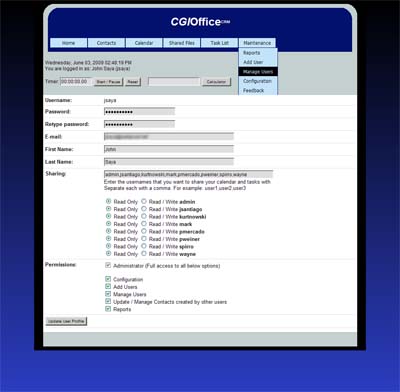 Generate any type of Ad hoc report you need by choosing how to search and which fields you want to show. Easily see your sales, contacts, and much more the way you want to see it.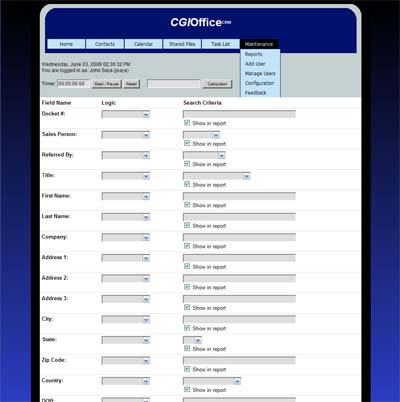 Installation:CGIOffice CRM automatically installs on your web site in seconds
Or, follow the below instructions to install manually.
Untar cgiofficecrm.tar. If you use telnet or ssh, the command would be: tar xvfp cgiofficecrm.tar
Move cgiofficecrm.cgi to your cgi-bin folder and CHMOD to 755
Edit the locations in cgiofficecrm.cgi to where you will store the working files
Move all other folders and files to the folder you chose above and chmod each file to 777
How much does CGIOfficeCRM cost?
CGIOffice
CRM
is virtually the most cost effective CRM there is. There are two options to choose from:
Basic: 1 - 5 users is only $49.95/month (That's less than $10 per user)
Premium: 6 - 10 users is only $97/month which also includes a CGI Connection Premium Membership. This gives you access to all of the other AutoInstalling software at CGI Connection (over 100 other software products for your web site). That's just $9.70 per user and includes a BONUS of over 100 other Auto-Installing web site software titles!
Can I add more than 10 users?
Yes! Each additional user is only $9 additional per month. Please
contact us
to add more users.
I have been a member of this site for quite awhile now and never took the time to investigate it. I finally did on January 03, 2008 and let me tell you of all that I have been missing and paying through the nose for the same items CGI has for a fraction of the cost. I'm glad I finally smelled the roses and became a member! Become a member today and see what you've been missing!...
Pastor Dean
Send us your thoughts

Questions?
Get this software title and over $8,000 of other eye-catching web software products for
only $9
Download Fuse Node.js Compiler