Premium Membership (10 day, full access pass)
"Pros Want It, Newcomers Need It, You Too Can Access Over 100 Unique Auto-Installing Software Titles For Your Web Site And Say Good-Bye To Expensive Programmers And Designers"

You'll Never Find An Easier, Sure-Fire Way To Install And Use Software On Your Web Site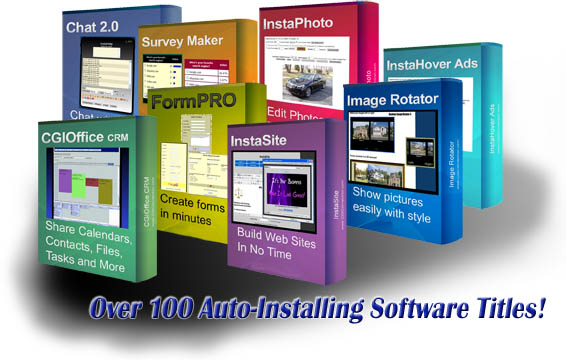 Tuesday, November 28, 2023
Are you looking to spice up your website, but don't want to spend a fortune on expensive programmers?
The experts who make the most money add CGI scripts to their website squeeze extra cash out of each visitor.
But the problem is buying this software is expensive.
Even worse, even if you can afford this software, getting it installed is a HUGE hassle -- even hiring a programmer to install it for you might take many days... even weeks.
The good news is now for the very first time ever, installing money-making CGI scripts on your site is a cinch... and there's no need to hire expensive programmers either.
"I would like to say that I am glad I found this site, alot of excellent scripts."
- C. Mancuso
Look how easy it is to get software running on your web site
Thank you for your support!

Sally Robinson
The BLH Club
Here's just a few Auto-Installing software titles you'll get...
*** Self-Created Content
FUDForum 2.7.6
FUDforum is a highly customizable forum package, with a large feature set. The easy to use administration control panel allows the administrator to easily configure and control the many features available.


YaBB 2.1
Build a community and get visitors to come back for interesting discussions, fun chat, or needed support without having to spend thousands of dollars.


Vote Voice 2.0
Let your visitors vote for a page, a site, or anything else and also voice their opinions all in one click! TWO MODES!


BBMatic BBS
A full featured Bulletin Board System for your visitors to view and post messages about any topics you set.
We saw all sorts of tools - site protection, sticky windows, streaming video, audio , etc - too many choices and we thought above gets us off to a great start ... your site is awesomely overwhelming - like a candy store to a 5 year old ... where do we begin??? does it ever need to end?

Annie Costa
*** Search Engine Optimization
HTML Checker
Your visitors may not be able to see your web site if your HTML code is bad. Check any web page for problems in seconds.
Oh thank you so much. You guys have saved me alot of money. Thanks

Joolz Gibson
*** Web Design
InstaSite
Build your web site in minutes with this all-in-one web design package. Never hire a web designer or programmer again.


FormPRO 3
Create and process smart forms on your web site in minutes. The easiest and most intelligent form development and processing package you will find on the Internet. Create and search through text or MySQL databases, verify information, and much more.


InstaHover Ads
Use the latest Web 2.0 strategies to show your ads to your visitors and increase your response rate in seconds with this invaluable tool


Pop Uploader 1.1
Let your web site visitors upload files instantly to your web pages for others to download. Share MP3's, documents, and anything else you can think of!


AD Flasher 1.5
Stop promoting with annoying Pop-Ups and give style to your AD's. Show your products, services, and RSS feeds in a flash without disturbing your visitors. Your AD's can float, fly, shake, rotate, and more!


FAQ Generator
Create your own Frequently Asked Questions (FAQ) pages right through your browser. Stop hand editing them and stop answering the same questions to your customers!


Joomla 1.0.13
Build powerful web sites with ease with this all-in-one package. All you need is a web browser and imagination.


Pop Uploader 2
Share songs, video clips, documents... any type of file you can think of right on your web page. Let your visitors upload and download files... even password protect them! Includes instant e-mail notification too.


WordPress 2.3
WordPress is an easy to use, but extremely powerful blog publishing system. Create dynamic content, let your visitors post comments, use RSS feeds... and so much more.


Site Searcher 2
Let your visitors search your web site with blazing speed and Google-like style. Fully customizable to look just your web site.


Site Searcher
Add real time searching capabilities to your web site. Let your visitors search files and folders with Google-like style.


StickySite
Keep your visitors on your web site no matter how many other sites you link to. Stick other sites in windows right on your own pages! Stop losing visitors today.


MultiCalc
Choose from 13 different types of calculators to add to your web site. There's calculators for auto financing, mortgages, credit, temperature conversion, retirement forecasting, astrological signs, and many more!


Site Block Zapper 1.7
Is your Web site being blocked from visitors? Find out if you're losing business the easy way.


Web Hog
Files cluttering up your web site? Getting over-charged for space from your provider? Search, edit, and view files and folders on your web site in seconds.


Quick Links
Now you can display links to other pages, or other sites instantly. No more editing your web pages! Perfect for affiliate links.


News Flasher Pro 2.0
Display upcoming events, add pictures, rotate news articles, and more on screen all the time. Catch your visitors' attention and don't lose that sale!


Text Replacer
Easily find and replace text on your web pages. If you have lots of pages that need to be changed often, you'll love this.


Form Sender
Have all of your forms sent to any e-mail address. Works with Windows and Unix servers.


Auto Pop Up Maker
Advertise your products and services with automatic pop ups and pop unders. One line of code can pop up/under any size window, even set time until it will display again.


Calendar Planner
Want your visitors to know about upcoming events? Need to remind yourself of things to do? The Calendar Planner can do it all for you!
I think what you have is a wonderful thing for those who do not understand html, cgi bins, etc. Best of luck to you in your endeavors.

Charles Garner
Sr. Executive Director
www.officialbeyourownboss.com
*** Competitive Intelligence
Trace Watch 0.234
See what your visitors are searching for and which pages they're visiting on your web site... in realtime. Easy to use, yet complete tracking and statistics program for your web site.


HitTail Alerter
See how people are finding your web site, and get notified by e-mail. Start saving money on your Ad Campaigns with Google, Yahoo and other search engines.


URL Ripper 2.5
Extract hyperlinks and e-mail addresses from any web site. Easily locate pages you thought were missing or easily find a contact in seconds.


Survey Maker 3.1
Don't spend another dime on advertising until you know what your visitors want and how much they'll pay for it. Use surveys and polls to get instant feedback and increase your profit. Realtime reports make it simple to see how effective each survey is.


Geography Tracker
Track where your visitors are coming from, and send them to different pages or sites on the fly depending on their location.


Web Extractor
Search any web site or any search engine for links, keywords, and e-mail addresses. In seconds you can extract this data and increase your sales.


Source Code Viewer
Instantly view the HTML, Javascript, or any other code on any web page, and see how your competition is getting in the top search engines.


Visitor Tracker
Display in realtime how many people are on your web site at one time. Fully customizable.


Traffic Analyzer
Know which pages are generating traffic and sales on your web site. Tracks views, click thrus, and ratios to maximize profits!


Power Counter 1.0
JavaScript enabled counter that allows and unlimited number of users to link to and keeps track of IP address, URL, date, time, and more!
Your software is easy to use and even easier to install. Thanks muchly for your efforts!

Col (AUS)
www.colzinfobiz.com
*** Affiliate Marketing
Super Affiliate Finder
Automatically find phone, fax, e-mail, and addresses just by entering keywords of interest. Stop fumbling through search engines to locate people that can bring you more sales.


Link Redirector
Make your lengthy web site URL's shorter in seconds. Perfect if you hate remembering long web site addresses or want to promote shorter URL's.
Just want to say love your software. IMO every web designer should have an account with CGIConnection, why spend the time doing the programming when in seconds they can add the items that give their web sites professional forms and so much more. I would be lost without CGI!

Thanks for being here.

Sincerely,

Delia Cummings
*** Viral
Creature Creator 2
Give your visitors a reason to promote your ads and web site by letting them create fun effects with flying ghosts and bats for their own web sites.


Santa's Helper II
Attract visitors back to your web site for the Thanksgiving and Christmas Holidays by letting them receive letters from Santa Claus! This Special Edition is free of charge. Happy Holidays!


E-mail A Page
Let your visitors e-mail their friends and family your web pages so you can get more traffic instantly! Can display in three modes: Pop up, Static Display, and Floating.


Site Recommender
JavaScript enabled box that constantly stays on the corner of your visitor's browser, to allow them to enter e-mail addresses to recommend your site.
"[The Affiliate Finder] works great! Let me know when you get it finished. I would like a copy."
- J. Yarbrough
*** Syndication
Media Scooper 2
Now it's easier than ever to get live, streaming news feeds on your web site. You choose the topic, style, colors, and even if you want the Search Engines to index you!


Banner Exchanger
Run your own banner exchange. Allows multiple banners, impression and click through tracking, and more!
I have been a member of this site for quite awhile now and never took the time to investigate it. I finally did on January 03, 2008 and let me tell you of all that I have been missing and paying through the nose for the same items CGI has for a fraction of the cost. I'm glad I finally smelled the roses and became a member! Become a member today and see what you've been missing!...

Pastor Dean
*** MultiMedia
MultiMedia Streamer PRO
View, listen, and control your MP3, MPEG, AVI, RealPlayer, and virtually any other video and audio clips right on your web page.


Multimedia Streamer
No more downloading entire video or audio clips before they start to play. Make them play instantly.


Download Director 1.0
Manage and log what files are being downloaded from your server, and who is downloading them. It will log the date, time, IP address, their site URL, filename downloaded, and more!
I wrote to you about a problem I had with your scripting. The problem was, as you know, not with your scripting. The problem was with the user, ME!

Thank you for your quick response, and the obvious knowledge you have about the possible solutions. Your suggestion enabled the program to work immediately.

I think you hear ma few complaints but I herewith send you BIG COMPLIMENTS for the software package which you offer, and for your professionalism in customer support. I find the price unbelievably inexpensive and the support better than normal from companies who offer software at +$1,500,00.

Thank you for this great value and for your software contribution, which opens doors for the layman in the high tech world.

Yours,

Haras Fyre
www.fyremusic.com

*** Graphics
InstaPhoto
Upload, Edit, Transform, Convert, and Manage all of your photos right through your web browser. No more manually uploading and downloading photos to your web site.


Banner Creator 2
Attract repeat visitors to your web site by letting them design their own banner ads and pictures. Banner designs can be saved for later editing and even e-mailed to your visitor to get them coming back for more.


E-Greeting Card Creator 1.5
Give your visitors a reason to keep coming back to your web site. Create e-mail greeting cards for any occasion and generate more cash by combining your own ads with them.


Random Image Rotator 4
Rotate an unlimited number of images on your web site and add eye-catching special effects. Zoom, hover, slide, add descriptions and more. Attract your visitor's attention, enhance your web site, and increase sales.


RealTime CGI Clock
Displays a small clock on your visitor's browser at all times. You can use your server's time or the visitor's local time.


Banner Creator 1.5
Design your own graphics and banners in seconds right through your browser! Promote your site without paying an artist and let your visitors use it too.
"I want to thank you! Finally, there's a site out there that does auto uploads for scripts. Hallelujah!"
- Tom Hobbins
*** Chat
InstaChat 3.0
Let all your visitors chat instantly when they come to your site. No logging on required! Realtime, Refresh, Pop Up, or Static display on your browser!


BlueChat
Fast and simple chat room with smiley faces, colors, and more.


WebChatter 7.0
WebChatter utilizes server push technology to achieve a realtime chat environment. Features include unlimited public and private rooms, op, kick, ban, live web page chat, news feeds, games, and more. This is the actual Perl source code to WebChatter.


WebChatter 6.1
WebChatter utilizes server push technology to achieve a realtime chat environment. Features include unlimited public and private rooms, op, kick, ban, live web page chat, news feeds, games, and more. This is the actual Perl source code to WebChatter.
I have just registered at your Company and if it does what it says on the box. Which it obviously does I will be advertising it on my site. Ronald Cook Owner/Manager
Christian Marketing US.
*** Privacy
Support Center 2
Manage all of your sales, support, or any other questions your customers have with an all-in-one, easy to use system.


E-Contact 2
Stop SPAM instantly by eliminating your e-mail address from your web pages. Instantly add a "contact us" box to your web site without revealing your e-mail address. Fully customizable for any web site including security (captcha) codes.


Member Manager
Prevent thieves from getting your content. Block or restrict access to any part of your web site and start a membership site in minutes. Includes e-mail verification, mass e-mailing, link cloaking, and fully customizable to look like your own web site.


E-Contact
Prevent SPAM by eliminating your e-mail address from your web pages. Instantly add a contact box for your visitors to send you e-mail without revealing your address.


Port Scanner
Is your web site or your home computer vulnerable to trojans or hackers? Better make sure sites are secure by checking often with the Port Scanner.
I just want to say Thank for the free Downloads.It makes a change to find usefull and much needed cgi programs that always work when I upload them to my server.
- Steve Cardwell
*** E-Mail
E-mail WhiteLister
Maximize your mailing list subscription rate and ensure your e-mails are getting through to your web site visitors and newsletter subscribers


E-mail Verifier 2
Is your mailing list clean? Avoid getting your web site banned by checking your e-mail list. Verify your entire mailing list in seconds, and stop getting bounced e-mails.


E-mail Verifier
Check to see if your mailing list addresses are really valid. Verify your entire mailing list in seconds, and stop getting bounced mail.


Web Mail
Get your e-mail through your web browser. Allows unlimited users so your friends, family, and customers can do the same.


Quick Mailer 2.0
Notify your customers and potential prospects of new products and services without having any special formatted mailing list.


AutoResponder 1.0
Stop losing money and follow up with your customers automatically. Close the sale with no effort at all since your sales letters are sent automatically via e-mail.


Sale Mailer
Get instant e-mails each time you make a sale. Perfect for Paypal accounts, Clickbank accounts, or any merchant account.


Quick Mailer 1.0
Send out plain or HTML e-mails all through your browser. Type your ad, return address, and upload your mailing list with one click and you're mailing!


Mass Mail Maker 1.0
Ever wanted to send out e-mails with a more professional look by having JavaScript and HTML inside? Ever wanted to send them to a whole bunch of addresses at once? Now you can and it's all done through your browser!
I do have to say your site and products are brilliant.

Nick
*** Programming
HTML Scrambler
Tired of people stealing your information? Need to protect your HTML or your coding? Need to password protect vital membership only material?


Script Scrambler 2.0
Protect your hard work by encrypting your Perl scripts in such a way that they are virtually unreadable, but still work the same way!


Module Checker
Stop guessing what's installed on your server, and find out if the modules your Perl scripts require are actually installed on your server.


Payment Verifier
Stop invalid cards in their tracks before they are stored in your database! Verifies that a user entered valid credit card or checking account numbers.


Script Tester
Script not running? Getting the dreaded INTERNAL SERVER ERROR and don't know why? Use the script tester to upload and test scripts through your browser!


System Sleuth 1.0
Need know the paths on your server? How about the platform type? Location of your cgi-bin files? Which directories are writable? Most scripts require these values. This script will give you them!


Auto Text 1.0
Tired of editing all of your pages and code? This simple script will fill in all text and HTML by using text files. Just add one JavaScript line to your pages!


Perl Reference Guide
If you ever wanted to learn CGI programming, this is the official guide to the Perl language.


Net::FTP Module 2.62
Add FTP functions to your Perl scripts. Have your scripts upload files, download, change permissions, and more, on any FTP site.


Net::DNS Module 0.34
DNS module used to look up domain names, resolve addresses and much more.


WebShell PRO
Telnet access through your browser! Realtime, password protected, upload & download files, change directories, remove files, and more!


WebShell 1.0
The WebShell is intended to give those who do not have telnet access, a way of issuing commands in realtime, just like telnet does. Any command that you can type in at the telnet prompt can be entered in the WebShell.
Over $8,000.00 of self-installing software titles to spice up your web site
| | |
| --- | --- |
| | Over $8,000 of easy to use, self-installing software for your web site |
| | Compatible with Mac, PC, and virtually any platform because it runs on your web site. So you just need a web browser. |
| | Virus and Spyware free. Each software package is thoroughly tested and developed to ensure maximum security and integrity |
| | Over 100 auto-installing software titles to choose from. New titles added all the time. |
| | Never pay a programmer to design software again. This alone could save hundreds of dollars per year. |
| | Never pay installation fees for software again. Most companies charge $100.00 or more just to install one software script. |
| | Get 24/7 access to new, updated, and existing software at no extra charge |
| | If you need help with any software, just contact us any time of the day |
| | No risk. No contracts to sign. CANCEL ANY TIME. |
Sincerely,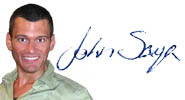 John Saya
Note:
Your 10-day access pass allows you to download every single money-making CGI script I've created to install to your hosting provider... ready to use in less than 60 seconds each. Then you make the call... love it or leave it. When you love it, do nothing and continue to enjoy all of my software titles for just $97 monthly (that's only about $3 a day, or as much as a cup of coffee with Irish Cream). Or click the cancel button within the member's only area and my system automatically cancels your membership. There's no strings attached.
"Hey! We just downloaded your software for the RedHat platform. Setup was so easy! And the chat interface is very intuitive. We love it! We are a small college in Northern Utah called Stevens-Henager College. We are a private college, and we carry about 300 students average enrollment. We are looking for a web chat server for a 'Distance Education' program we're looking into. We want to get remote students to interact with instructors in real time on our campus. Your software is perfect for us."
- T. White
Send us your thoughts
Questions?
Get this software title and over $8,000 of other eye-catching web software products for
only $9
Download Fuse Node.js Compiler